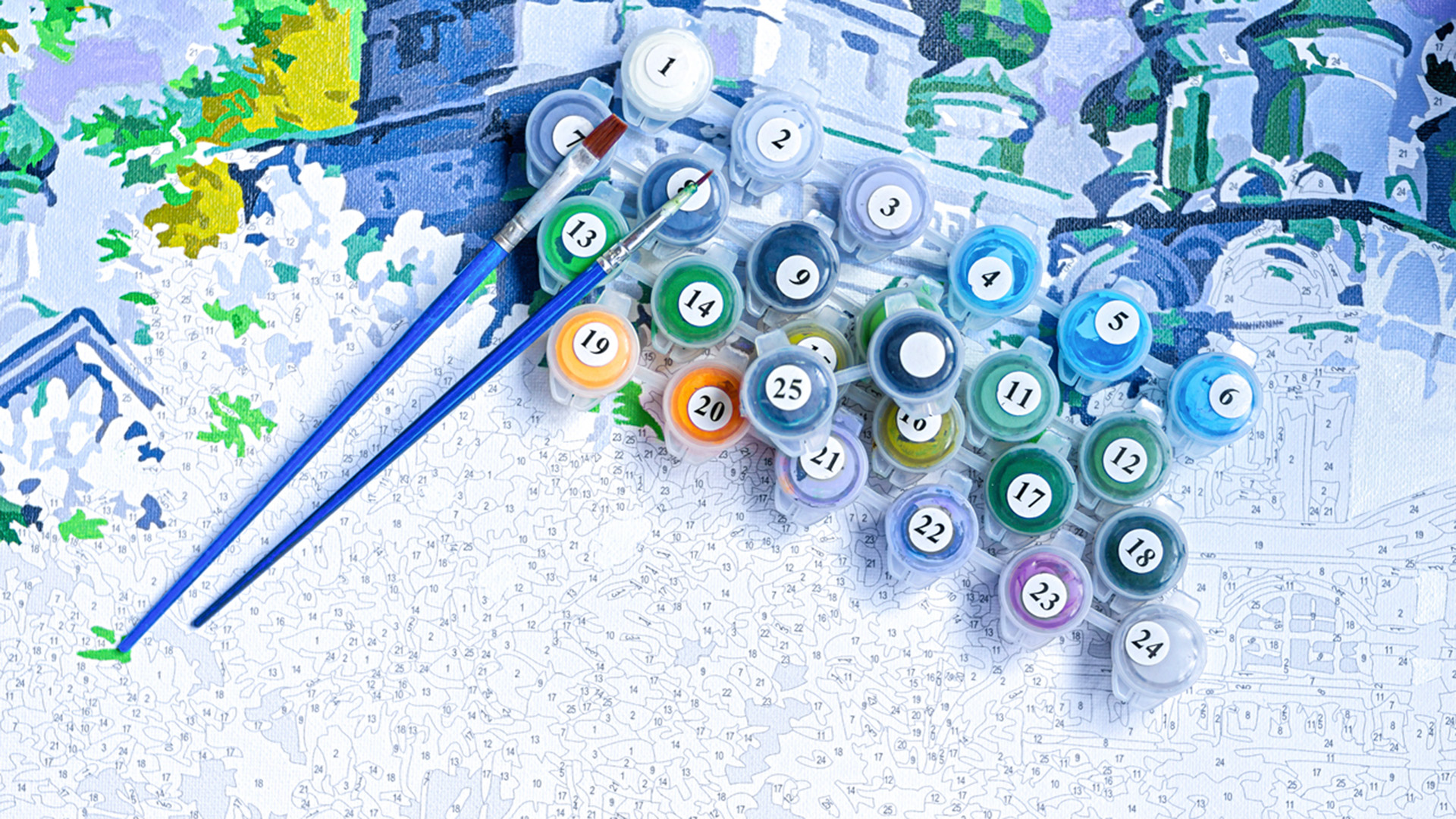 Posted on: December 14th, 2022
Congratulations, you've built a partner marketing kit. Your partners now have content marketing assets like eBooks and infographics, digital display banners, and emails in hopes that they can easily co-sell your joint solutions and services. Or will they?
Having been on both the enterprise channel marketing and agency creative development side of the equation, I've seen what works and what doesn't work for partners. So often there is a ton of emphasis put on the ingredients of a marketing kit, but little on its usability or consumption of it. And the last thing channel and enablement teams want to do is create brilliant content that dies on the vine and in the hands of their partners because they cannot easily use it. Keep in mind, partner marketing teams are likely smaller than yours and there will be multiple vendors vying for their time and attention.
Here are four proven tips that we employ for our enterprise clients like Citrix, Google Cloud, and Microsoft that help ensure channel partners can successfully use their marketing kits.
Paint by numbers
The most common and overlooked thing we see in partner marketing kits is a how-to guide. It's not enough to publish the ingredients in a partner portal and hope it makes sense to the marketing team. Spell it out in clear and simple steps including:
Who is the kit for and how should it be used
What is included in the kit
How to co-brand and customize the content
How to execute it
Where to go for help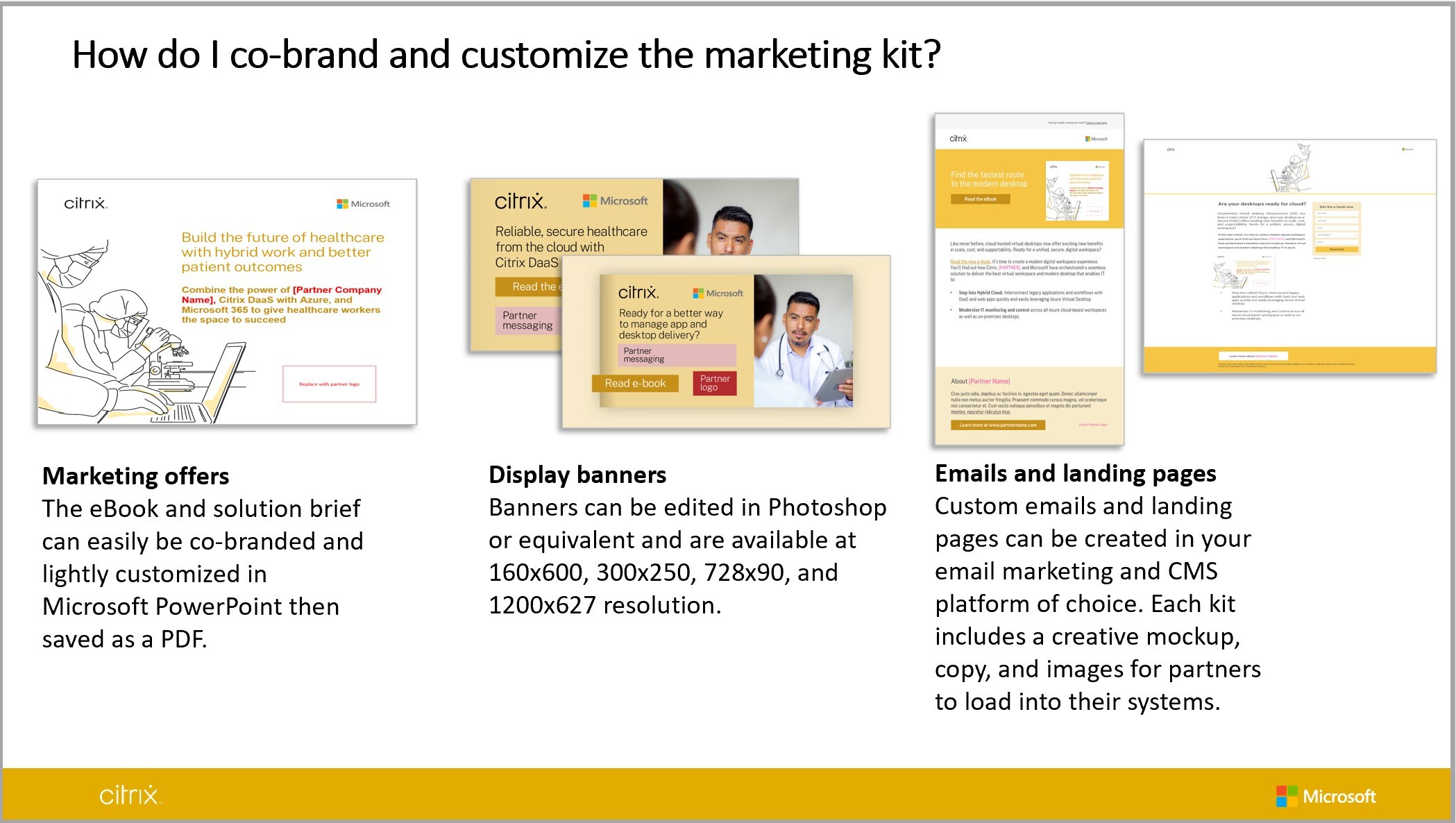 Give partners clear, step-by-step instructions on how to co-brand your content
We typically use PowerPoint to create a simple how-to guide because it makes it easy for Geo and channel teams to make updates or localize down the road. Avoid creating these in design software like Adobe Illustrator because most teams won't have access to the app to make updates. Another approach is to make an informal video, where you walk through the steps so partners can see it in action.
Regardless of the format, test it out. Give it to a peer or a partner you are friendly with and have them test drive everything before calling it done.
Customization friendly
Your partners are marketing your solution, but they are taking it to selling under their brand. Unfortunately, many kits are packaged up in a read-only format (PDF) that cannot easily be customized or co-branded without access to source files and design software like Adobe. And it's done with good intent, because you want to maintain integrity of the copy and creative, but that leaves the partner struggling to do simple steps like adding their logo and call to action.
Slides and documents are one thing, because everyone has access to office productivity tools. But most of the finished goods—eBooks, whitepapers, infographics, etc.—are done in designer apps like Adobe Illustrator, which not everyone has access to.
Here's our solution…
Do all the design and layout work as you normally would in the creative app(s) of choice and run it through the review and editing process. Once the content is approved, export the pages/sections as flat, read-only images, and rebuild them in PowerPoint or Word. Do this for all the "interior sections" so the body of the asset is preserved. Then for specific sections like the cover, call to actions, and last page, make select copy blocks editable by the partner. This allows the partner to customize the areas you want them to, such as an "About partner" blurb, contact information, URL, and add their logo for co‑branding. Once that is done, save the file as a .PDF and the partner now has a co-branded and customized asset that you have maintained version control over.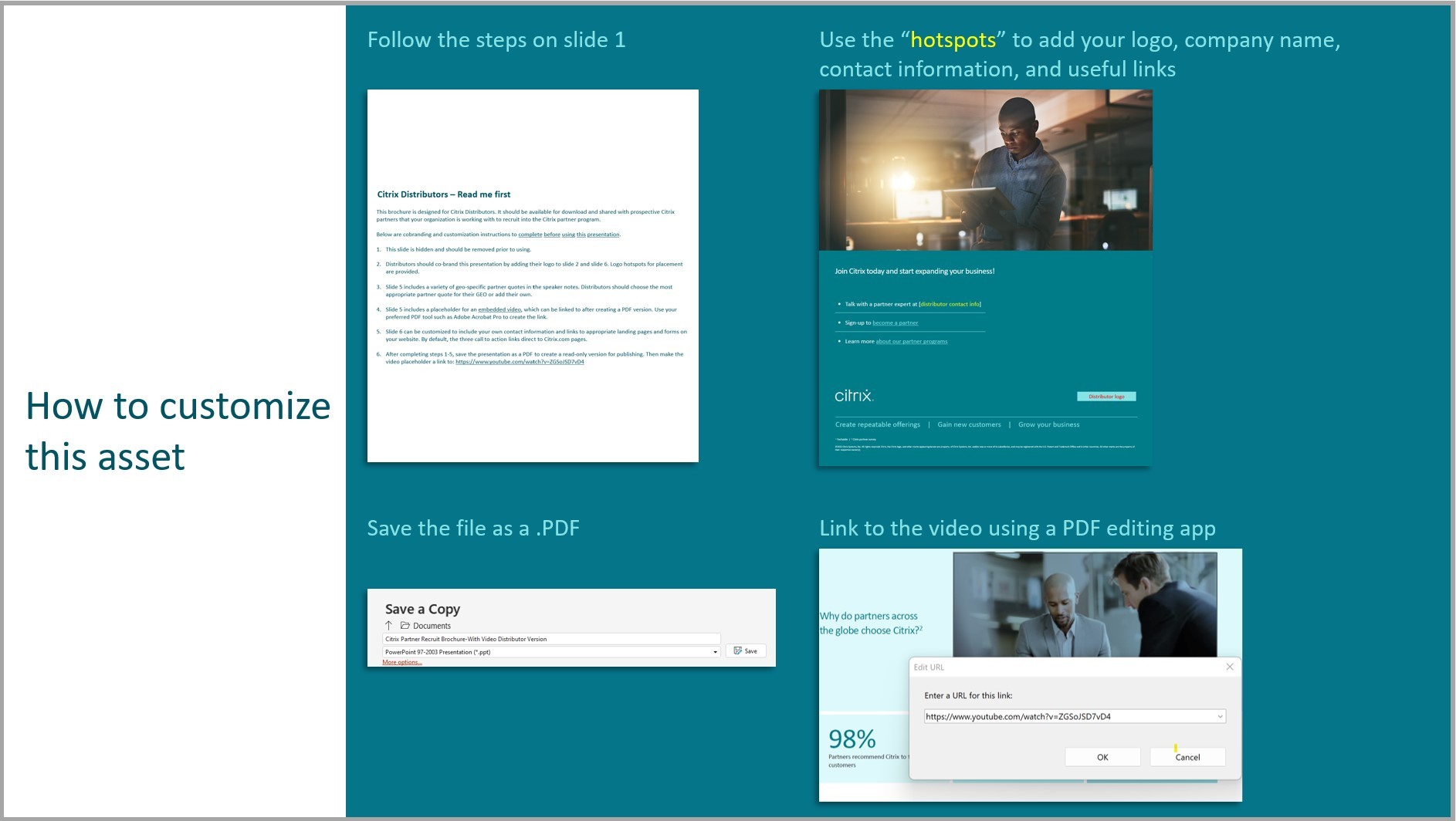 Using PowerPoint to co-brand content
For simpler things like display ads, banners, and social images, there is no shortage of free and easy to use editing tools that even a novice designer can use to drop in your logo. And of course, that handy how-to guide you've included in the kit will spell out all the steps with helpful screen shots along the way.
Tone down the branding
This one is tricky. It's your organization's solution or product, you've built the content and the kit, so certainly your brand takes center stage. But the partner is the one that is co-selling and driving the execution, and chances are their brand looks wildly different. For example, your brand may be big and bold, full of vibrant colors and custom illustrations and the partners more conservative and biased towards photography. How do you marry the two and avoid a Frankenstein looking style?
Chances are, your brand has a range of visual treatments, secondary or grayscale color pallets, and softer creative elements at your disposal. When it comes to partner marketing and co-branding, this is a prime time to leverage these alternative brand elements. Look for brand elements, creative treatments, and colors that will be widely appealing to any partner's brand. Lifestyle photography, line art icons, greys, and softer colors are great examples to consider.


Choose colors that will work with a wide range of partner brands
Building blocks for email and landing pages
Marketing automation, email platforms, and content management systems (CMS) vary widely, and your partners probably use something different than your organization. Rather than designing, coding, and handing off a finished email or landing page template that only works on your platform, take a platform-agnostic approach.
What partners really need is the copy and essential creative elements to construct their own HTML emails and landing pages in their platforms. We will typically mockup a sample of what an email or landing page should look like, then give partners all the info they need—copy docs, header images, thumbnails of the offer, etc.—to load into their own system.
If we expect that sellers will be sending emails from their individual accounts, then we use Microsoft Outlook templates (.OTF), which can be text only or HTML. Then, all a seller needs to do is double-click the OTF file, personalize the recipient's name, salutation, and closing, then hit send. The same approach works with HTML templates in Gmail as well.
Up the usability game on your marketing kits
These four tips will ensure your next marketing kit is well received, used, and properly executed by partners. They don't add much to the process but go a long way to ensuring the hard work that went into developing them pays off.
If you have other tips and tactics for improving partner marketing, let's hear them.