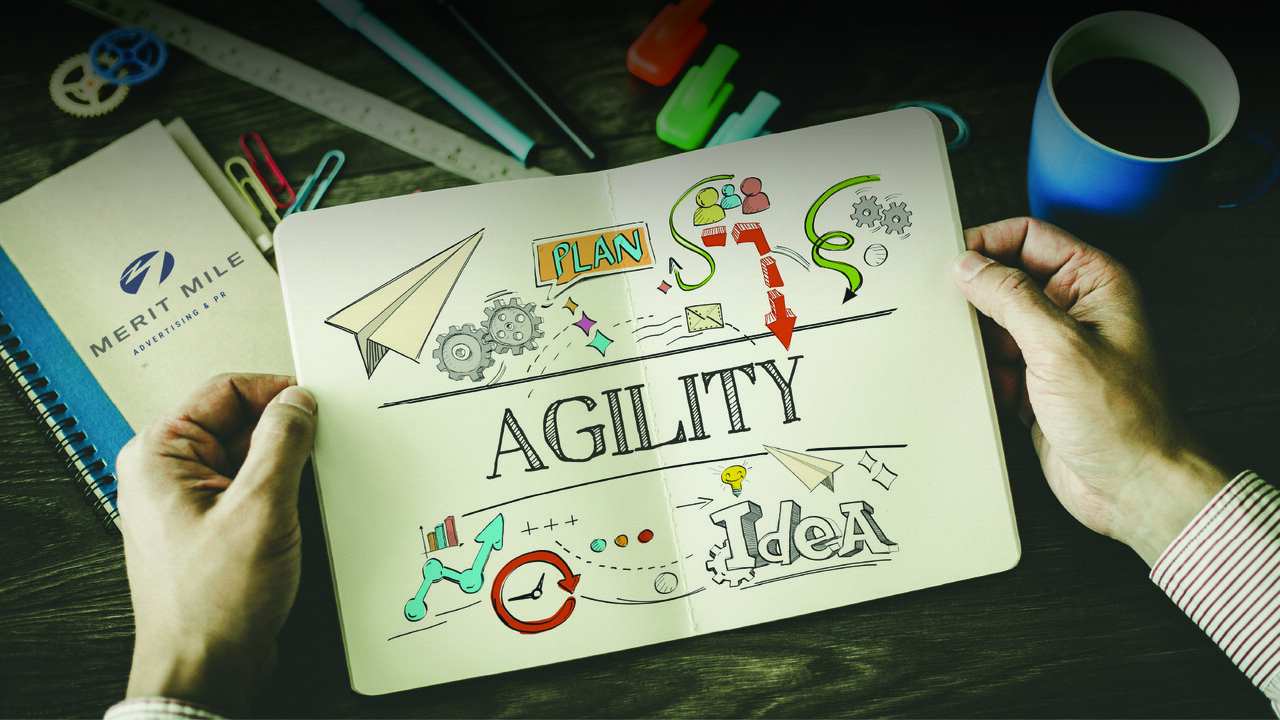 Posted on: May 1st, 2023
From the hopeful startup to the established enterprise, and amidst multiple bull and bear cycles, the Merit Mile team has seen just about everything over the last 15+ years. One thing in particular shines brightly in our analyses—the way marketing departments and organizations navigate turbulent times is a great indicator of sustained, long-term performance. And those organizations that are willing to embrace fresh approaches to challenges—especially customer challenges—seem to endure, thrive, and perform consistently over time.
As you evaluate your marketing department or company as a whole, ask yourself if your organization is navigating the current day cycle with an agile, fresh-approach mindset; or a traditional, fixed-approach mindset?
What is an agile transformation office?
Agile organizations have been around for decades, but the post-pandemic period has invigorated the shift of many global organizations from traditional to agile corporate structures, or an agile transformation office (ATO). There are a myriad of definitions, but the essence of an ATO is an organization, department, or team aligned on goals and designed to be nimble and reactive to the needs of the business, all while understanding that change is inevitable rather than preventable.
In contrast, a traditional corporate operating model relies heavily on safe but slower moving processes, methodologies, and hierarchies. These approaches have been tested and proven over time, but they have become less reliable and relevant due to a variety of factors, most notably access to data, immediacy of communications, and the consistent desire for organizations to achieve growth at scale.
An ATO is focused on sometimes riskier but fast-twitch decision-making, personnel empowerment, and efficiencies among all departmental responsibilities. With so many employees, teams, and vendors geographically displaced from the conventional corporate HQs today, it's easy to rationalize the shift.
This shift has been driven largely by three pandemic-influenced factors:
Productivity transformation in support of the remote workforce
Digital transformation and knowledge workers' adoption of cloud and SaaS productivity apps
End-customer expectations in the Web 2.0 and 3.0 world we currently occupy
3 ways organizations benefit from agile transformation
Let's take a closer look and examine a few examples of how marketing, HR, and tech can make a positive impact in an agile environment in a phased approach to the ATO, especially when we're all asked to stretch budgets and do more with less. But first, let's understand that business is personal, business is hard, and business as well as business leadership is often stressful.
Here are two recent citations representing the mindsets of senior leadership as well as Millennial and Gen Z professionals today:
Senior level leadership: "…nearly 70% of senior leaders say burnout is affecting their ability to make decisions and 69% of executives are thinking about quitting because of their wellbeing (source)."
Young professionals: 91% of 18–24-year-olds feel stressed; 87% of 25–34-year-olds feel stressed; and 98% of 18–24-year-olds are feeling burnout (source).
1. Marketing Communications: Traditional organizations have widely adopted a mindset of developing personnel skillsets over time with formal training and steady coaching exercises. Ultimately this approach develops a 'deep bench' of skillset strengths in various departments. Keep in mind however in the current climate of professional infidelity, the notion of bench strength can be quickly disproven with the departure of one or two key players.
Moreover, from an internal and external marketing communications point of view, today's ATO, especially as it relates to the marketing function, recognizes that the ability to focus on the core business while outsourcing the creative and publicity marketing functions offers flexibility, creativity, collaboration, and significant savings versus the full-time employee team scenario. This agile approach to the function of marketing is analogous to a utility service that the organization can turn on or off and scale up or down quickly, and without expensive and/or burdensome employee onboarding and headcount involvement.
Lastly, when properly executed, agile marketing approaches with qualified vendor partners typically produce results at a faster pace than the traditionally insourced function due to contractual terms, the "you get what you pay for" mindset, as well as the 'sprint' focus of third-party marketing teams.
2. Human Resources: Often overlooked or taken for granted, the HR function is more important than ever in 2023. The gig economy, The Great Resignation, and the realities of millennial job-hopping have made the way we work today almost unrecognizable to the way the previous generation worked. Moreover, the effects of COVID-19 are still impacting today's workforce as it relates to style, structure, productivity, and expectations. Yet, the recruit and retain function today does offer agile organizations attractive selling points that can counter the negative effects of turnover, one of the most costly expenses for any organization.
Agile organizations typically embrace a culture of workplace flexibility—one of the most attractive recruit and retain 'soft' benefits. What companies lose in unused office square footage can potentially be made up in the form of work-from-home (WFH) employee satisfaction. Furthermore, many companies agreeable to WFH terms are seeing productivity increases as well as enjoying 24/7 accessibility to staff and teams.
3. Technology Adoption: Business agility and digital transformation… these two initiatives are very complementary and could be the two primary pillars of business disruption this century, to date. Agile organizations demonstrate an ability to consume existing tech and new, emerging tech in an "all-you-can-eat" context, consistently testing, deploying, and sunsetting systems for teams, departments, and entire workforces.
One of the most impactful ways companies can ramp-up on tech, particularly those with no internal IT function, is to hire and partner with third-party IT service providers. These companies are typically in close partnership with the leading independent software and hardware vendors, are up to date on business compliance requirements, and are consistently getting trained in the latest technology. Oftentimes, these IT services companies or systems integrators have their own intellectual property software solutions that may benefit your particular industry or niche market. If they do not have their own IP, many make it a common business practice to develop and license custom technology solutions for their end customers, too.
Altogether, the consumption of technology in the corporate enterprise is a significant line-item expense that has direct cause and effect outcomes. From Cloud to Big Data to Blockchain to Artificial Intelligence; the ability to empower (productivity) yet control (security) employees remains a massive business goal. And those agile, tech-forward companies that provide the tools and training make for better, faster, and happier teams.
ATO for business and marketing success – final thoughts
Surviving and thriving in tough economies often comes down to the right people and the right operational and marketing mindset. If your team, department, or organization is concerned about navigating difficult market forces, consider embracing an ATO in full or hybrid fashion starting with HR, marketing, and technology decision-making.
For more information, please reach us at Hello@MeritMile.com, 1-561-362-8888, or visit us at www.MeritMile.com.